****THIS EVENT IS SOLD OUT. TO BE ADDED TO THE WAITING LIST, PLEASE REGISTER AND YOU WILL BE CONTACTED IF A SPACE OPENS UP*****
Home Grown Mountain Biking Tours is stoked to present… HG Ladies Clinic at 50 Year!
This clinic is OPEN TO ALL LEVELS! Small groups will be selected based on ability level and experience. Professional Mountain Bike Instructors will provide a safe environment to progress your abilities on the bike, and help you apply those skills on the trail. This "all-mountain" style of riding offers fast descents, technical climbs, swoopy corners, drops & rollers, switchbacks, steep terrain, loose dirt and rocks, and off-camber single track. While these trails require a higher level of skill to navigate, they are incredibly rewarding and fun!
PREREQUISITES: **BASIC BIKE HANDLING SKILLS, AND ACCESS TO A TRAIL MOUNTAIN BIKE** Full Suspension, 3+ Inches of Travel, and Dropper Seat Post Recommended **Or rent a bike from us… New Carbon Stumpjumper for $50
[wpecr_registration_button]
*PAYMENT IS REQUIRED TO SECURE RESERVATION. ALL RIDERS REQUIRED TO COMPLETE HG'S PRE-RIDE QUESTIONNAIRE:
https://homegrownmtb.com/pre-ride-questionnaire/
When: Sunday, March 7th, 9a-4p
Where: 50 Year Trail – Golder Ranch
Who: Home Grown Mountain Biking tours' PMBIA Professional Instructors and Guides
Cost: $150 per person – includes lunch
MEET YOUR COACHES: 
Tara Alcantara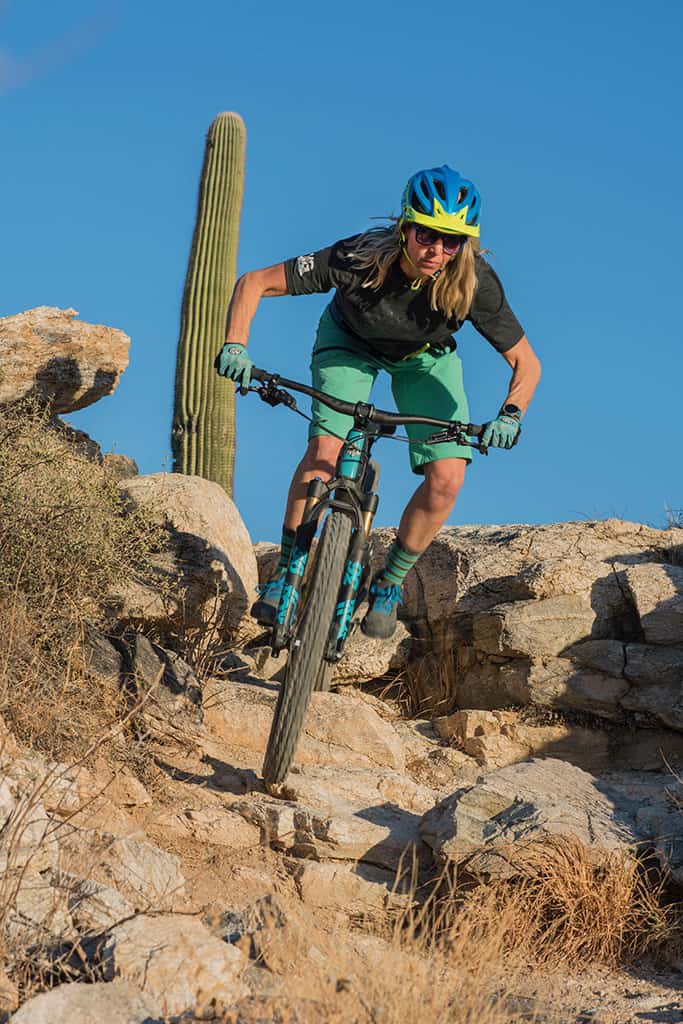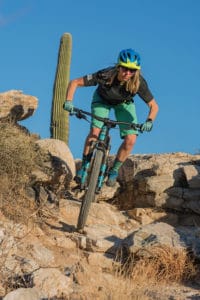 Tara has been mountain biking for 25+ years, and has devoted her life to growing the sport and helping increase opportunities for riders, specifically women in the all-mountain, or "enduro" and downhill disciplines. Tara is a PMBIA Certified Coach, and a Head Coach for Ladies Allride with Lindsey Richter, having traveled to Montana and Wyoming each summer since 2016. Tara is a founding member and former president of TORCA (Tucson Off-Road Cyclists & Activists), and owner of Home Grown MTB Tours, a guiding, coaching, shuttle, and rental company. Mt Lemmon is her backyard – Tara's first love is downhill, and riding fast and challenging terrain is where she finds her flow. Check out a recent video taken on Bug Spring trail:
https://theloamwolf.com/2020/12/07/video-maxxis-intersections-tucson/
**PLEASE NOTE:  HG believes a well-rounded athlete benefits from the perspective of both male and female coaching. While this clinic is focused on the ladies, HG will utilize it's professional male coaches to provide coaching assistance and mechanical support.