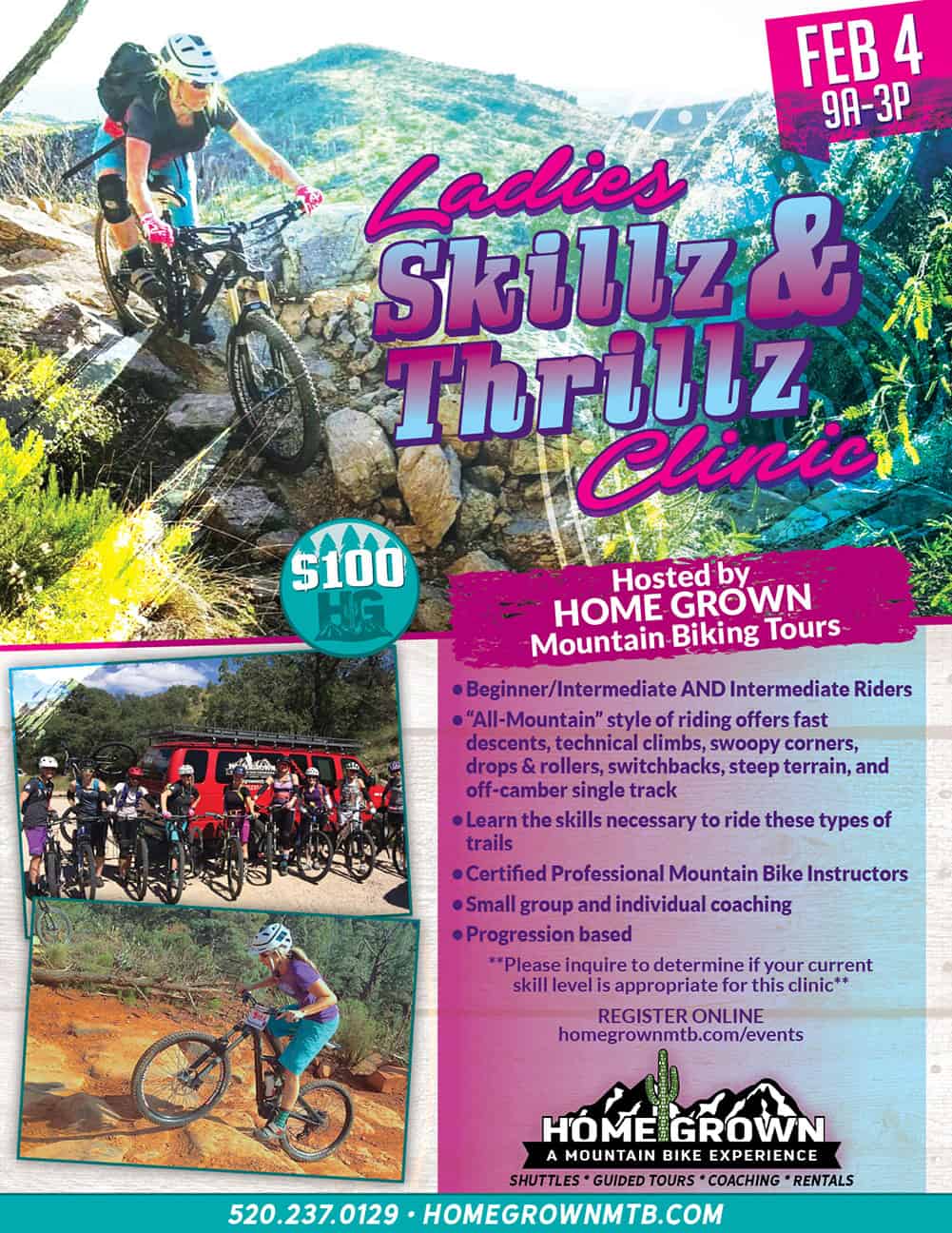 Home Grown Mountain Biking Tours is happy to present the Winter Ladies SKILLZ & THRILLZ Clinic! This clinic is for women only who currently ride at a beginner/intermediate or intermediate level. Professional Mountain Bike Instructors will provide a safe environment to progress your abilities on the bike, and help you apply those skills on Mt Lemmon trails. This "all-mountain" style of riding offers fast descents, technical climbs, swoopy corners, drops & rollers, switchbacks, steep terrain, and off-camber single track. While these trails require a higher level of skill to navigate, they are incredibly rewarding and fun!
PREREQUISITE: MUST BE ABLE TO RIDE FANTASY ISLAND AND/OR STARR PASS TRAIL WITH CONFIDENCE. ACCESS TO A TRAIL MOUNTAIN BIKE** (Full Suspension, 5+ Inches of Travel, and Dropper Seat Post Recommended). **HG has demo & rental bikes available.
[wpecr_registration_button]
When: Saturday, February 4th – 9am to 3pm
Where: Gordon Hirabayashi Campground, Mt Lemmon, Arizona
Who: PMBIA Professional Instructors Tara Alcantara & Lindsay Nohl
Cost: $100 per person
PPL: 10 person minimum, 21 person maximum
Details:
The morning agenda will include bike setup & maintenance, mountain bike fundamentals and skills, drills to re-enforce the proper form and techniques needed on the trails, and individual feedback from Instructors to help you progress in a safe but challenging way. Before lunch, you will break into smaller groups to take your newfound confidence and skills to the trail!
A healthy and nourishing lunch will be served and is included in the cost of the event. Use this time to speak to Professional Bike Mechanics on hand to answer questions or address any issues you have with your bike. While you enjoy lunch, we will watch videos to break down the core mechanics of mountain biking so you can apply it to your own riding!
Afternoon riding will take place on new sections of trail, where we will safely encourage and instruct progression in your riding and techniques. For those who are ready, a more advanced session on drops jumps will be covered. Shuttles are included and will allow for even more time spent on the trails!
MEET YOUR INSTRUCTORS
Lindsay Nohl is a PMBIA Certified MTB Instructor and Wilderness First Responder. Lindsay is the Director of National Outdoor Leadership School Southwest and spends all her free time enjoying the outdoors. Her love of mountain biking has expanded to all disciplines of riding, from bikepacking to XC to All-Mountain and Gravity. She is a natural Coach, having been a NOLS Guide & Instructor, as well as a competitive athlete. Her time is split between Tucson and Lander, WY. We are lucky and excited to have Lindsay offer her instruction and expertise!
Tara Alcantara grew up in Boise, Idaho, and started mountain biking at the age of 16. After 21 years of riding, Tara is more passionate now than ever before about the sport! Tara is the Owner of Home Grown Mountain Biking Tours and President of TORCA (Tucson Off-Road Cyclists & Activists). She has devoted her life to riding in Tucson, spending countless hours doing trail work and volunteering. Tara loves riding downhill as well as super techy terrain. Tara has dabbled in downhill racing, and has many podiums under her belt! She is also a Personal Trainer, Wilderness First Responder, and PMBIA Certified Instructor.