Introducing Home Grown MTB's
Rider Development Program…
This program is developed by PMBIA Level 2 Coach and Professional Fitness Trainer, Tara Alcantara!
Start the new year right by investing in your future health and well being. Learn to ride more and walk less, improve stamina and strength, and implement cutting-edge riding techniques that will keep your wheels moving forward and the rubber side down. Want to be more playful and have more fun on the bike? Looking to tackle harder trails and terrain? Do you need to improve your overall strength and conditioning? Maybe an Enduro race or other event is on your radar?
This program is limited to only 8 riders who are committed to reaching their full potential on the bike. Riders will attend 4 on-trail sessions over the course of a month, working individually and in a small group with HG's professional coach team. Additionally, a weekly MTB specific strength and conditioning class is included, lead by Level 2 PMBIA Instructor and Certified Personal Trainer, Tara Alcantara.
Shake up your routine and commit to an intensive program designed to dramatically improve your riding skills and fitness!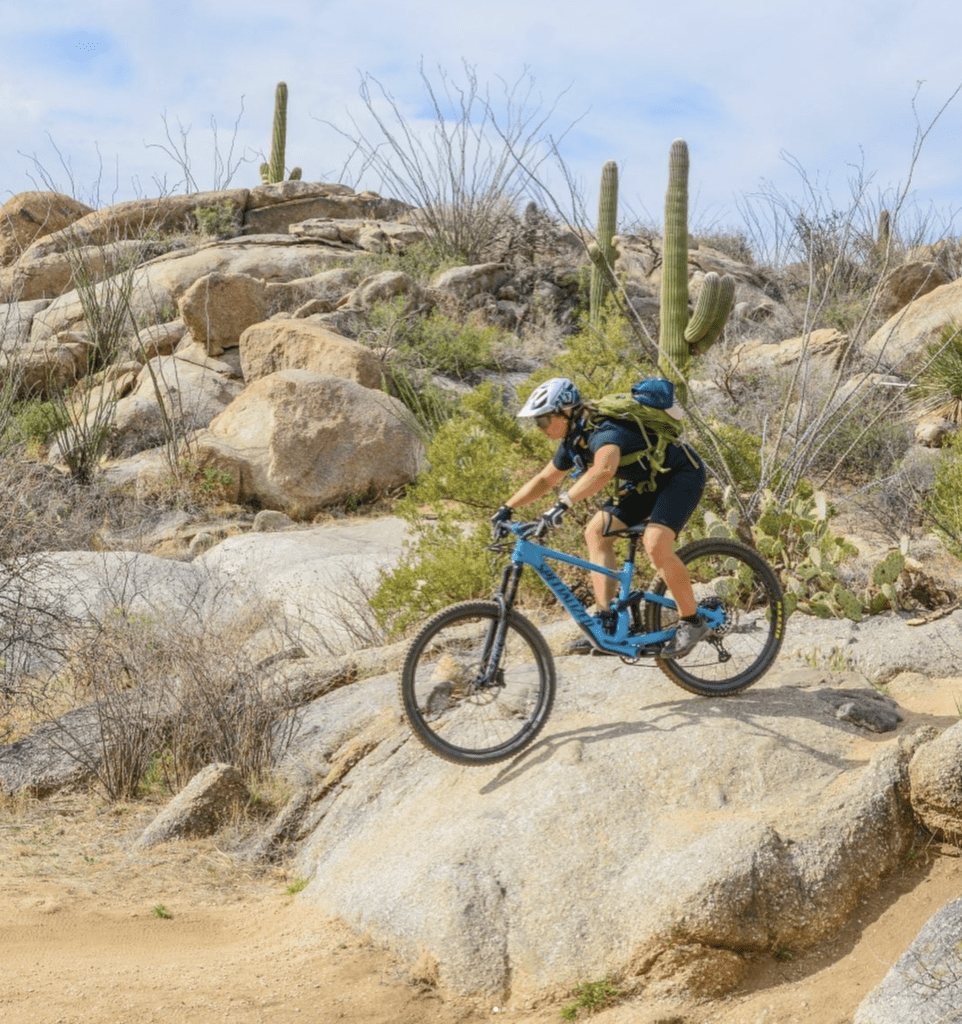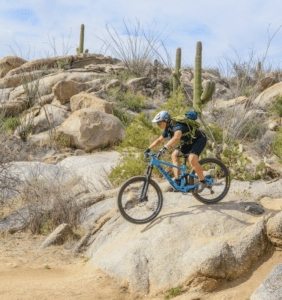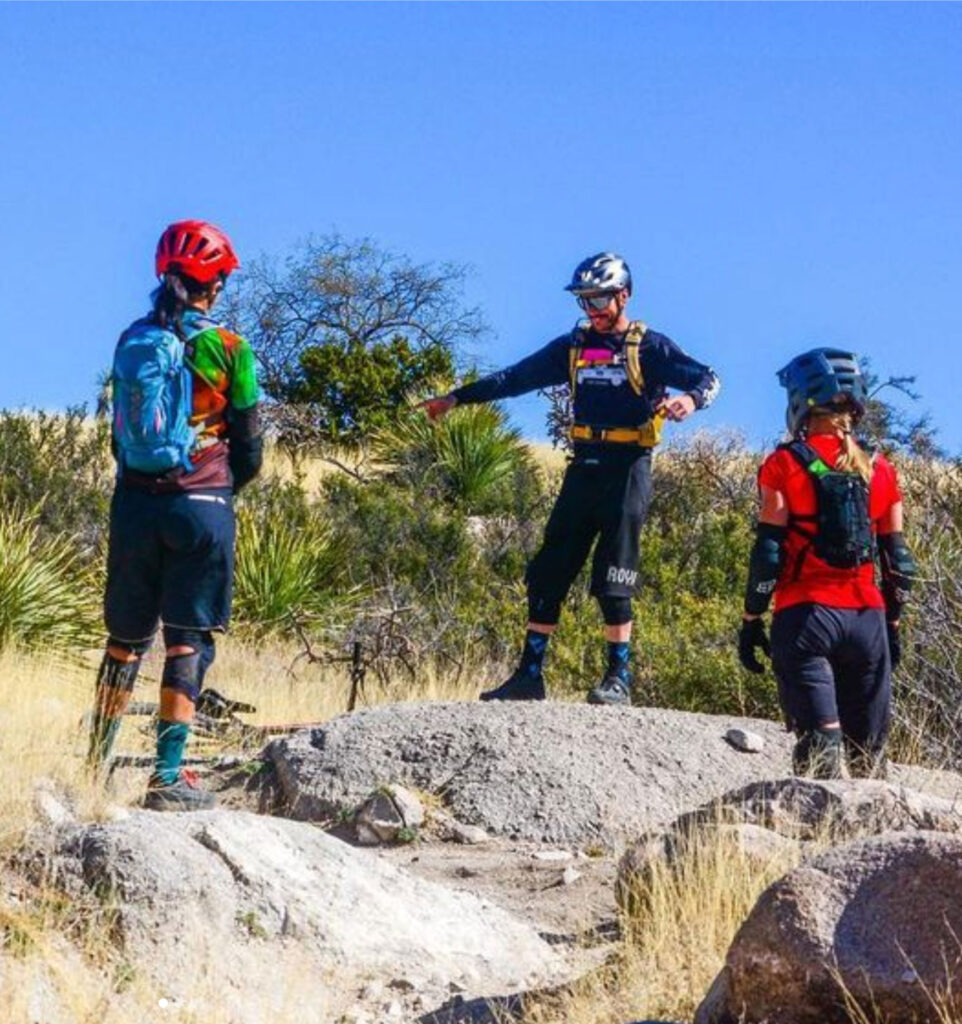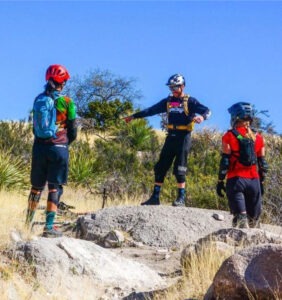 WHO: Intermediate riders looking for accountability, who are willing to put in the time and effort, and interested in becoming a better rider with increased capacity for harder terrain and harder efforts.
WHEN:
Saturdays – Jan 13, 20, 27 Feb 3   (MTB Coaching Sessions)
Tuesdays – Jan 16, 23, 30 Feb 6   (Conditioning Sessions)
MTB SESSIONS:
January 13 – Sweetwater Preserve – 9a-noon:  Dialing in the fundamentals (the "fundies") with Coach Tara. Find balance and stability with an unshakeable body position that is dynamic and strong. A training ride to get comfortable with long efforts on the bike. Coaches will provide an initial assessment and recommendations for improving throughout the course.
January 20 – Fantasy Island Trail – 9a-noon: Learn to lean with Coach Tara. Develop your ability to lean the bike in corners, navigate fast and loose turns without losing speed, and find traction in any conditions. Incorporating the fundamentals to find stability on the bike in any scenario, students will learn advanced cornering techniques to build on for years to come. This endurance focused ride is fast and fun, with ample opportunity to power up climbs and dodge cacti in this urban oasis.
January 27 – 50 Year at Golder Ranch – 9a-noon:  Technical climbing and descending with Coach Matt. With increasingly more unique rock features and tight single track, this ride will challenge riders to stay on their bike in even the most awkward of situations. This high intensity ride will challenge your overall strength and test your nerves, all while you learn to become a more efficient rider on the climbs and more confident on the descents.
February 3 – Mt Lemmon (Prison Camp, Bug Spring trails) – 9a-noon: Braking strategies with Coach Art. Find the flow on these gravity assisted trails, while staying in control and maintaining traction. Learn to brake hard, late, and with confidence… allowing you to ride faster and with less hesitation on new trails and features. Individual coaching will provide abundant feedback to continually refine your skills and evolve your riding.
CONDITIONING SESSIONS:
Tuesdays – Jan 16, 23, 30 Feb 6   – Follow Thru Fitness (5501 N Swan Rd) – 6p-7p: A one hour class with professional fitness trainer, Tara. A circuit workout designed to develop explosive power, muscle endurance, balance, strength, and proprioception. This class will supplement and enhance your efforts on the bike, and help develop a routine of incorporating strength and conditioning into your overall fitness regimen.
COST: THIS PACKAGE IS VALUED AT OVER $2,000! HG is pleased to offer this inclusive, intensive program for $875 IF you register before Jan 1. (after Jan 1, cost is $1000).
Submit your registration and pre-ride questionnaire below to be considered for this program. If accepted, you will receive an email confirmation and request for payment.
The fine print:
RIDERS EXPECTED TO ATTEND ALL RIDES AND WORKOUTS (NO SINGLE SESSIONS OFFERED FOR THIS SERIES)
A MODERN MOUNTAIN BIKE WITH 1X DRIVETRAIN, DROPPER SEAT POST, AND REAR SUSPENSION ARE STRONGLY RECOMMENDED. CONTACT US IF YOU'RE NOT SURE ABOUT YOUR BIKE, OR IF YOU PREFER TO RENT ONE FROM US.
NO REFUNDS PROVIDED FOR MISSED SESSIONS DUE TO INJURY, ILLNESS, OR OTHER ANY OTHER UNFORESEEN CIRCUMSTANCE.
RIDERS WILL BE ACCEPTED BASED ON OVERALL EXPERIENCE AND COMPETENCY TO RIDE TUCSON TRAILS AT AN INTERMEDIATE LEVEL.
ALL COACHING SESSIONS AND RIDES ARE RAIN OR SHINE. CHANGES TO TIME AND/OR LOCATION WILL BE MADE ONLY UNDER EXTREME CIRCUMSTANCES.
ALL RIDERS REQUIRED TO SIGN HG'S LIABILITY WAIVER AND COMPLETE THE PRE-RIDE QUESTIONNAIRE: https://homegrownmtb.com/pre-ride-questionnaire/
https://waiver.smartwaiver.com/w/5a53a10fe249d/web/
COACHES
Tara Alcantara
With over 25 years in the sport and in the gym, Tara has dedicated her life to MTB and fitness. Tara is a Level 2 PMBIA Certified Coach, ACE Certified Personal Trainer, and Wilderness First Responder.  Tara helps her students develop the skills required to make solid decisions on the trail, using a logical approach versus a fear based approach. As one of the very first of only a couple female riders on her home mountain, Mt Lemmon, she often chased some of Tucson's fastest riders down technical, fast trails. For the past 15 years, Tara has worked full time coaching athletes and riders from all walks of life, both in the gym and on the trails. Tara started Home Grown MTB in 2016. She has become a resource for locals and tourists alike, looking to experience the big mountain riding and exhilarating backcountry trails of the Sonoran Desert. She is also a founding member and past President of TORCA (Tucson Off-Road Cyclists & Activists), with thousands of hours of volunteer work slinging dirt and rock to make the trails better for everyone. Tara coaches MTB professionally, traveling the country working for some of the biggest names in the industry.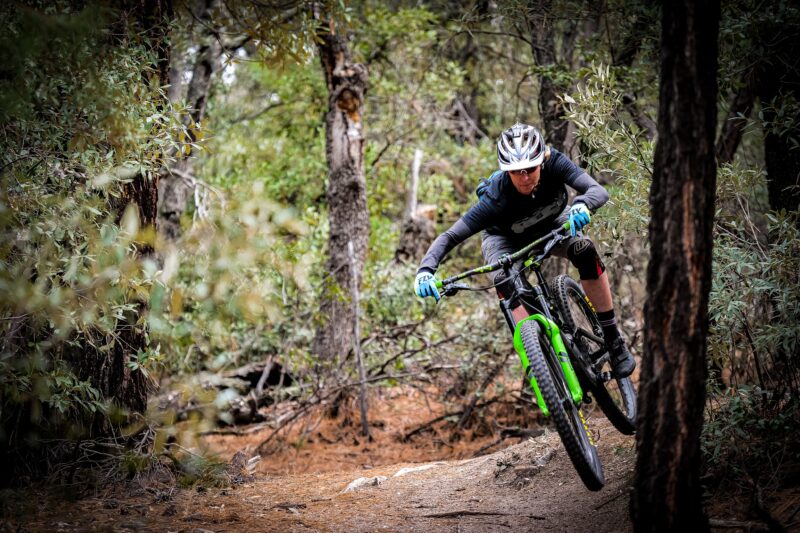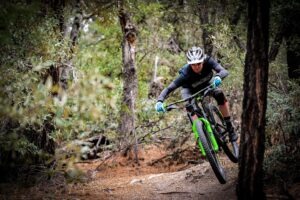 Art Alcantara
Art is co-owner of HG MTB and original "HG Guide", founder of TORCA (Tucson Off-Road Cyclists & Activists), and Level 2 PMBIA Certified MTB Coach. Art is a talented rider who prefers long, backcountry epics and hot laps at the bike park. Art got into the sport after meeting his wife, Tara, and together they've spent the past two decades making dreams come true on the bike. Favorite places to ride are Retallack – BC, Whistler, Angel Fire Bike Park, and Mt Lemmon. His first coaching student was his wife, Tara, who he helped to develop into the rider she is today. Locally, Art has developed opportunities and advocated on behalf of riders for the past decade. He is currently working with the Coronado National Forest Santa Catalina Ranger District on it's Master Trails Plan to develop trails on Mt Lemmon.
Matt Hrabko
Matt relocated to Tucson from northern California several years ago and dove head first into the Tucson MTB scene. He is Lead Guide and Equipment Manager for HG, a Director on the board for TORCA, and talented mechanic with decades of experience. Matt makes his living riding and working on bikes, and has a "calm, cool, and collected" style that makes him a pleasure to be around. As a PMBIA certified Coach, Matt has worked with hundreds of riders to help them improve their skills and ride with more confidence. Whether he's riding the chunk on the local trails or traveling to bike parks for downhill action, Matt is a talented athlete who is always happy to share the stoke with those around him!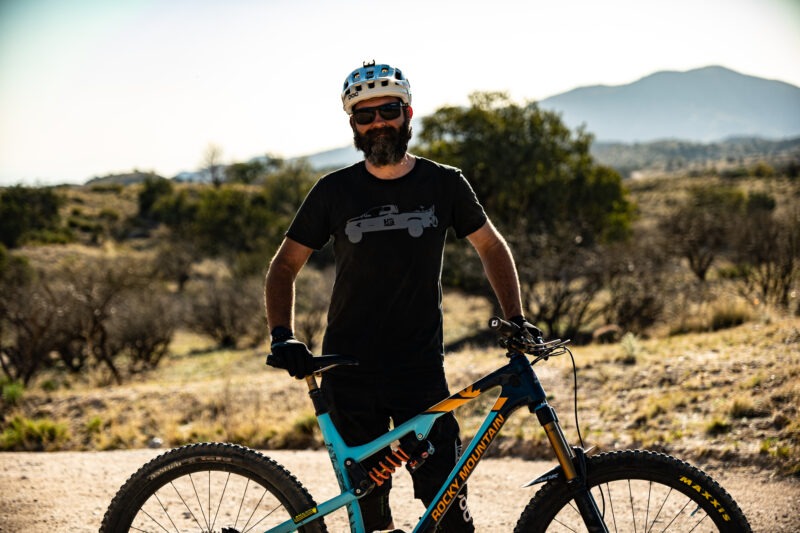 **PLEASE NOTE:  HG believes a well-rounded athlete benefits from the perspective of both male and female coaching and ridership; as such, this clinic is co-ed**