Home Grown Mountain Biking Tours is stoked to present… HG Ladies Clinic at 50 Year!
This clinic is OPEN TO ALL LEVELS! Small groups will be selected based on ability level and experience. Professional Mountain Bike Instructors will provide a safe environment to progress your abilities on the bike, and help you apply those skills on the trail. This "all-mountain" style of riding offers fast descents, technical climbs, swoopy corners, drops & rollers, switchbacks, steep terrain, loose dirt and rocks, and off-camber single track. While these trails require a higher level of skill to navigate, they are incredibly rewarding and fun!
PREREQUISITES: **BASIC BIKE HANDLING SKILLS, AND ACCESS TO A TRAIL MOUNTAIN BIKE** Full Suspension, 3+ Inches of Travel, and Dropper Seat Post Recommended **Or rent a bike from us for $80
[wpecr_registration_button]
*PAYMENT IS REQUIRED TO SECURE RESERVATION. ALL RIDERS REQUIRED TO COMPLETE HG'S PRE-RIDE QUESTIONNAIRE:
https://homegrownmtb.com/pre-ride-questionnaire/
When: Sunday, March 13th, 9a-4p
Where: 50 Year Trail – Golder Ranch
Who: Home Grown Mountain Biking tours' PMBIA Professional Instructors and Guides
Cost: $175 per person – includes lunch
MEET YOUR COACHES: 
Tara Alcantara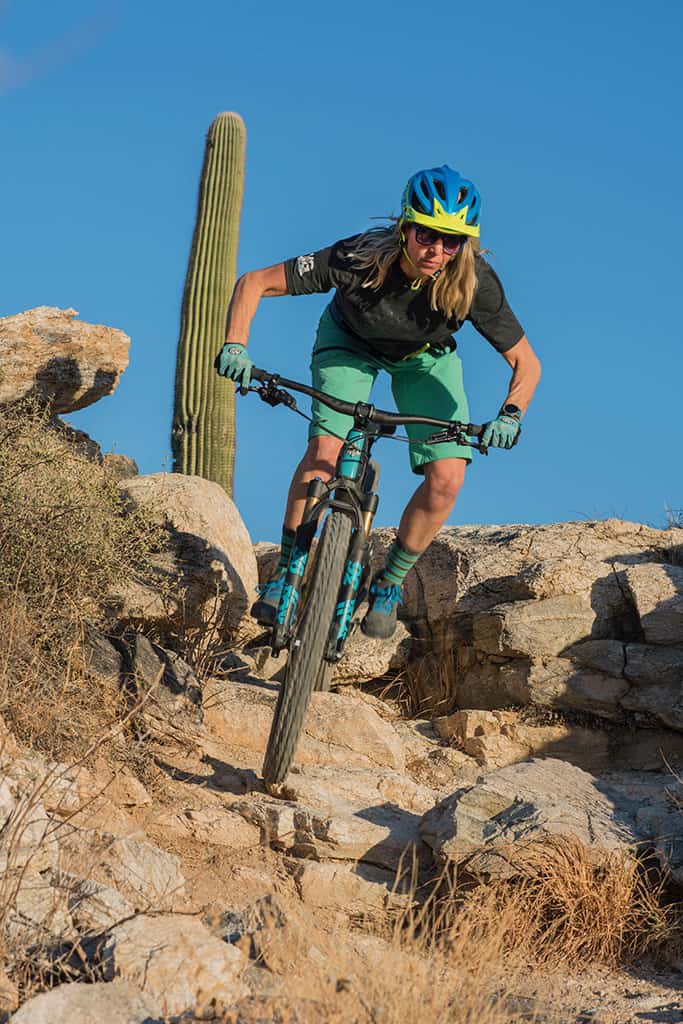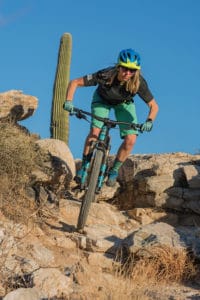 Tara has been mountain biking for 25+ years, and has devoted her life to growing the sport and helping increase opportunities for riders, specifically women in the all-mountain, or "enduro" and downhill disciplines. Tara is a PMBIA Certified Coach, and a Head Coach for Ladies Allride with Lindsey Richter, having traveled to Montana and Wyoming each summer since 2016. Tara is a founding member and former president of TORCA (Tucson Off-Road Cyclists & Activists), and owner of Home Grown MTB Tours, a guiding, coaching, shuttle, and rental company. Mt Lemmon is her backyard – Tara's first love is downhill, and riding fast and challenging terrain is where she finds her flow. Check out a recent video taken on Bug Spring trail:
https://theloamwolf.com/2020/12/07/video-maxxis-intersections-tucson/
Matt Hrabko
Matt relocated to Tucson from California several years ago and dove head first into the MTB scene. He is a lead guide for HG, a Director on the board for TORCA, and talented mechanic for Tucson Performance & Endurance Center. Matt makes his living riding and working on bikes, and has a "calm, cool, and collected" style that makes him a pleasure to be around. As a PMBIA certified Coach, Matt has worked with hundreds of riders to help them improve their skills and ride with more confidence. Whether he's riding the chunk on the local trails or traveling to bike parks for downhill action, Matt is a talented athlete who is always happy to share the stoke with those around him!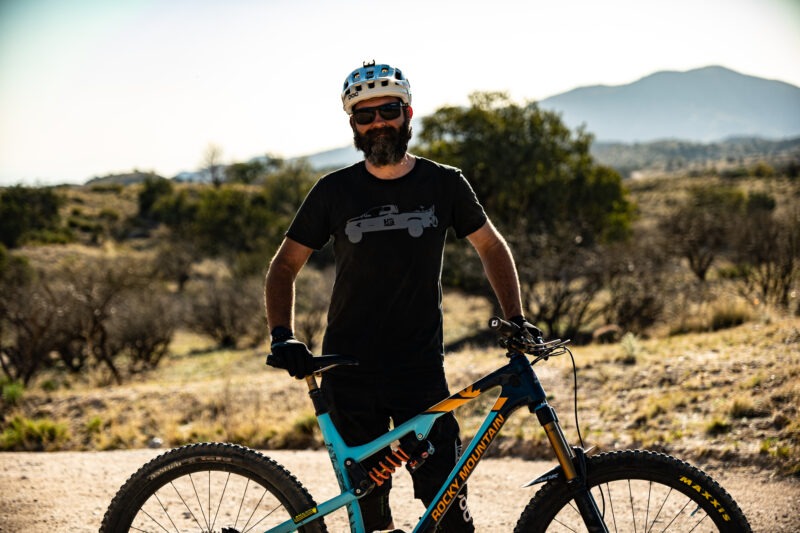 Stefanie McDaniel
Growing up riding dirt bikes on technical desert single track, Stefanie is no stranger to two wheels. After picking up mountain biking in 2015 and entering her first race in the fall of 2017, she's quickly made a name for herself in Professional Enduro Racing. Stefanie is the current 2-time Arizona and Nevada state Enduro champion, and most recently 3rd overall Pro Woman in the 2019 Big Mountain Enduro Series. Riding for the US Factory Pivot Cycles Enduro Team, Stefanie is looking forward to continuing to rise up the ranks in the coming years. She owes much of her success on the bike to continued quality professional instruction. Her passion for learning and practice has grown into teaching others how to progress safely and become more confident and skilled riders. As a PMBIA Certified Instructor, Stefanie is excited to pass her stoke for bikes onto her future students!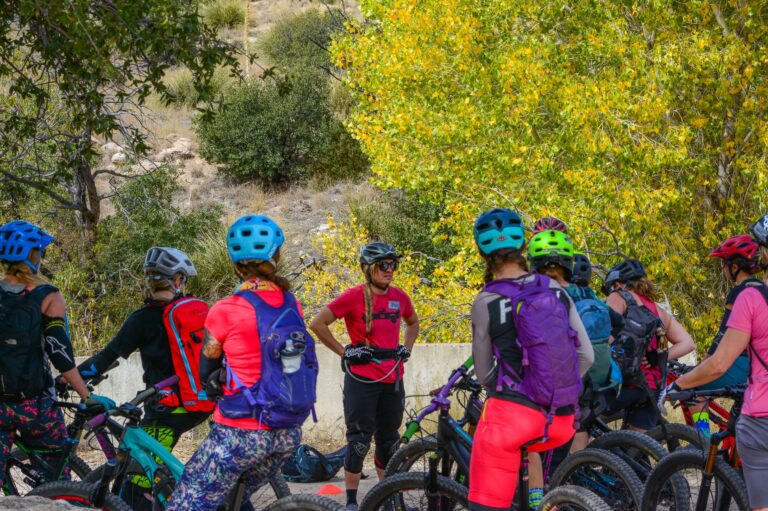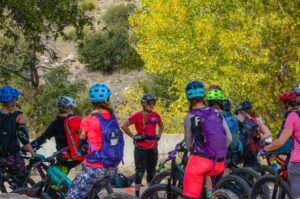 Kimber Burger
As a Lead Guide and Head Coach for HG MTB, Kimber has coached and lead hundreds of riders on expert terrain. She credits her own progression in the sport to her first clinic with HG. Kimber is a skilled rider and an example of what good fundamentals can do! Her ability to exemplify sound technique is a testament to her skills. In the summer, Kimber can be found at Angel Fire bike park and other downhill parks. She is a coach for Ladies AllRide with Lindsey Richter, helping riders expand their riding to big mountain, lift-accessed trails. In addition to being an exceptional mountain biker, Kimber is a pleasure to be around and learn from.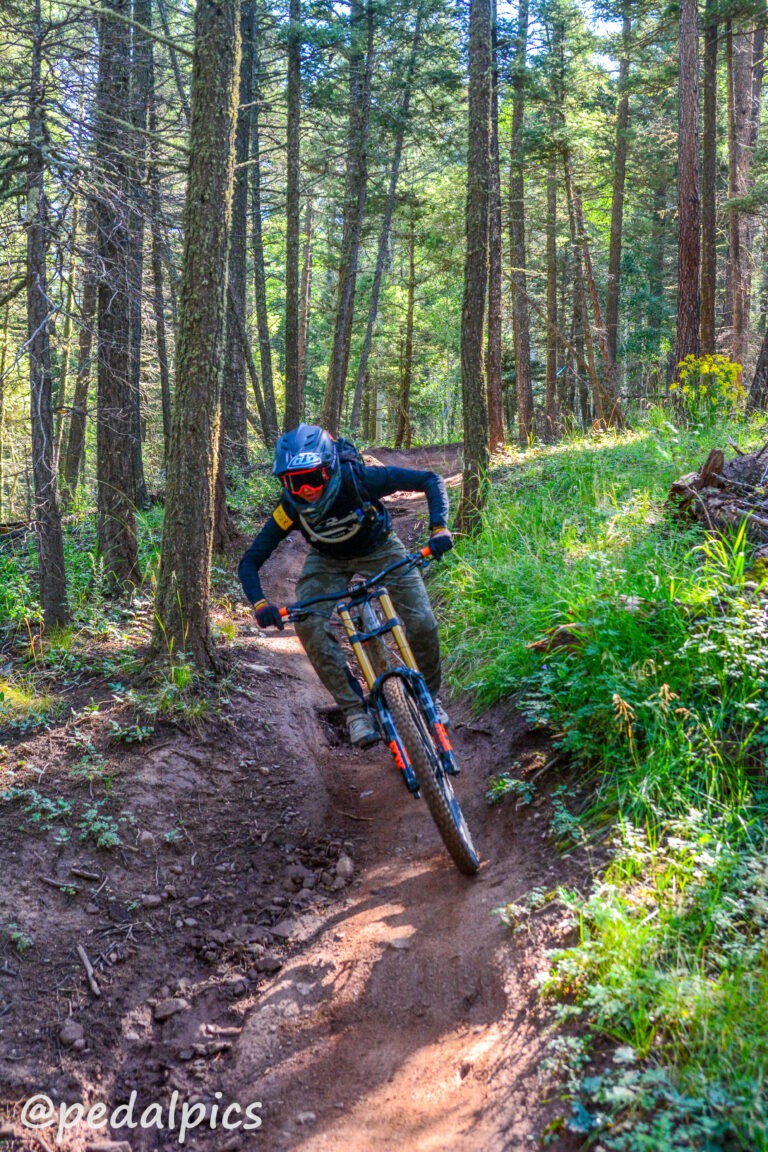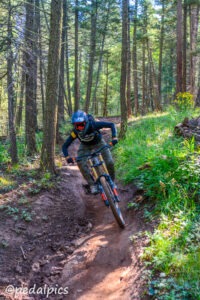 **PLEASE NOTE:  HG believes a well-rounded athlete benefits from the perspective of both male and female coaching. While this clinic is focused on the ladies, HG will utilize it's professional male coaches to provide coaching assistance and mechanical support.