You've heard of Moab's Whole Enchilada? Tucson's CDO trail is similar, starting at 9500 feet at the top of Mt Lemmon and finishing in the valley at the base of the Catalina Mountains. This ride has it all… steep and technical descents, scenery including high alpine terrain and cactus forests, a soul-crushing climb (suck it up or add-on HG's RAZOR adventure shuttle), multiple creek crossings, and a true backcountry experience.
This ride requires intermediate-advanced skills and fitness. A modern full-suspension all-mountain bike is required . Not sure if you're a good fit? Complete HG's pre-ride questionnaire and we'll help you make an informed decision (see below). Rental bikes are available for $75 – let us set you up on the best equipment for the best experience!
This ride covers about 25 miles and takes most riders 4-6 hours. Included is a private Guide and Shuttle. Route finding is extremely difficult, non-guided rides are not recommended.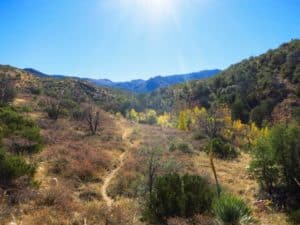 Don't end up on the evening news! Play it smart, and enjoy following some of the best riders anywhere. All Guides are trained in backcountry first aid. GPS is used when available for safety of the group.
www.homegrownmtb.com/pre-ride-questionnaire